Rubin Nemon Richardson was my great-grandfather.  I was never lucky enough to meet him, but I have enjoyed trying to piece together his life.
He was born on  June 10, 1898, in Texas. We know when he was born thanks to his draft registration card which he filled out when he was 20 years old.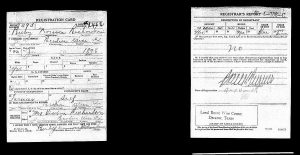 This document also revealed that he had blue eyes, brown hair and his closing living relative was Vivian Richardson – his wife (Mary Vivian Phillips), who he had recently married.
Rubin Nemon Richardson should not be confused with R A "rube" Richardson (aka R A "rube" Richardson) who was born on April 11, 1903 on Montague County, Texas. They are not the same. Rube died on December 19, 1966 in Texas. Rubin Nemon died 6 years prior on May 6, 1960 in Colville, Washington.
At the age of 18 (maybe 19?), Rubin Nemon Richardson married his beloved Mary Vivian Phillips. The marriage took place on July 10, 1917, in Decatur which is in  Wise County, Texas.
Within a year (August 31, 1918) they had their first child. She was born in Paradise, which is in Wise County, Texas. Paradise, Texas is located about 1 hour and 15 minutes, NW of Dallas.
By 1930 he moved from Paradise to what is today Waurika, Oklahoma (according to the 1930 census).
Here is a copy of the 1930 US Census where he was living with his wife, 7 of his children, his brother George and his sister in law Admy. It would be easy to assume this is George's wife but if that was the case the "Admy" has to be her nickname. George's wife was Francis Mozelle or possibly Mozelle Francis.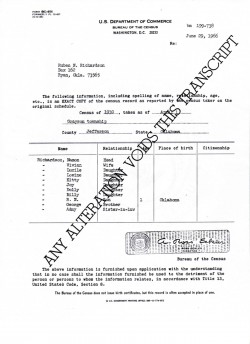 At the age of 41, Rubin Nemon Richardson was married and living in Hood, Texas which is just southwest of Fort Worth – less than a 1-hour drive.
The 1940 US Census tells us that in 1934 he lived in a rural area on a farm, where he rented his home for the insane amount of $2 a month.
At that time he was employed as a salesman. He completed one year of college. Now the odd thing about that was that the previous line said he did not attend school or college. Considering the low amount of money he made per year, I would say he probably did not actually attend college.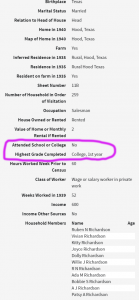 In the 1930 census, he said he could read and write but that he had no attended school.
At the time of the 1940 census, he was working 60 hours a week and earned $600, which he used to support his nine children, one of which was my grandfather, RN Richardson.
I did some research into this, and it said that the average male in 1940 earned $956 a year, which meant that RN earned well below average. But he also paid significantly less for rent than the average family did back then.
In 1940 the average monthly rent in a rural area was $18, and Rubin reported only paying $2 a month. That gives him an extra $192 a year, but that still puts him well below others in terms of earnings, especially if you consider the fact that he worked all year long (52 weeks) and put in an average of 60 hours a week. Now throw in the fact that he supported 12 kids and a wife on this income. How crazy is that?
Prior to getting a job as a salesman, he was employed as a Tennant farmer. Farming is something he had done his whole life. Heck, he was even working the fields as farm labor even when he was just 12 years old.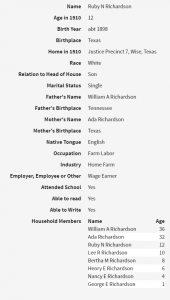 The hard part about researching Rubin is that his name is spelled in so many ways. Here are just some of the variations I have found …
Rubin Nemon Richardson
Rubin Neamon Richardson
Reuben Namon Richardson
Rubin Richardson
Namon Richardson
Nemon Richardson
RN Richardson
R.N. Richardson
Reuben Neiman
Rubin
Ruby Richardson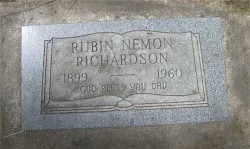 It's oftentimes hard to find proof of people's birth and who is related to who when you start going back further in time, but as luck would have it, Neamon was living with his mother, father, grandmother, and grandfather during the 12th census of the United States of America in 1900.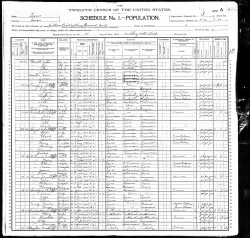 If you click the image to expand it, you can see that at the time he was listed simply as Namon and he was 1.
His father and grandfather both listed their employment as farmers.  If you look closely at the entries relating to Mary (his grandmother) and Ada (his mother) it says that Mary is the mother of 6 children, 6 of which are living at this time while Ada is the mother of 3 children, only 2 of which are living at this time.
They had Namon in 1899, and we know he was living, and we know their other son at that time was Roy Lee (Namon's brother) who was born in 1900, and he didn't die until 1977.  So that means they had a child prior to Namon, sometime between their marriage in 1897 and Namon in 1889, who died.
| | |
| --- | --- |
| John Richardson | 53 |
| Mary Richardson | 59 |
| Alexander Richardson | 26 |
| Ada Richardson | 20 |
| Neamon Richardson | 1 |
Rubin Nemon Richardson was born in 1898 in Texas
Death 6 May 1960 in Colville, Stevens, Washington, United States of America
Father – William Alexander Richardson (1874 – 1971)
Mother – Ada Mae Sheppard Richardson (1879 – 1965)
Married: Mary Vivian Phillips
Date of Marriage:  July 10, 1917 (in Decatur, Texas).
Mary Vivian died at the age of 92 on October 6, 1991.
This marriage produced at least 14 children.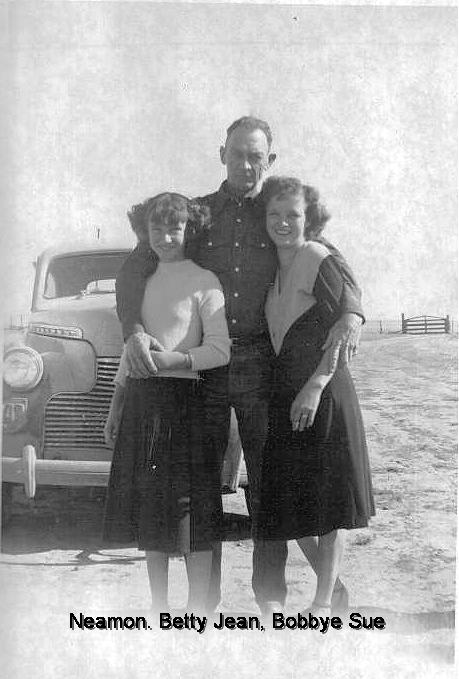 Ruby Lucille Richardson (1918 – 2001)

Birdie Lorene Richardson (1919 – 1975)

Dorthy Louise Richardson (1921-1928)

Kitty Levita Richardson (1923 – 2016)

Joy Charlene Richardson (1925  – 2005)

Dollie Inez Richardson (1926 – 2004)

Billie Jo Richardson (1928 – 1995)

Margie Nell Richardson (1932 – 1934)

Bobbye Sue Richardson (December 15, 1934 – February 01, 2008)

Betty Jean Richardson (1936 – )
Pasty Ann Richardson (1939 – 2014)

Hazel Irene Richardson (1941 – 1943)
Please note that Joy Charlene Richardson was born Leota Joy Richardson, at least according to the Texas Birth Index and her actual birth certificate which was filed with the state of Texas, shortly after her birth (11/3/1925).
So I'm not sure why her name was changed, but somehow between the time of her birth in 1925 and then the 1930 US census she became Joy Charlene instead of Leota Joy, and I have yet to find out why. But don't worry, I'm working on it!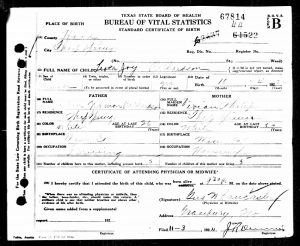 Variations in how to spell a name aren't restricted to just males. Here is the legal death certificate of Rubin's daughter Birdie Lorene who died in 1975. You'll notice they spell her name "Berdie Lorene". In the 1920 census, she was listed as "Lorene Richardson" and in the 1930 census she was "Lorine" and on the Texas county marriage records she was listed as "Bertie Lorene".
Rubin Nemon Richardson is my great grandfather
I always wondered why Rubin was in Washington of all places when he died. Recently, however, I found that his daughter Bobbye Sue (aka Bobbie Heberling aka Bobbye Sue Heberling) was living there. Maybe he was there visiting her.
Bobbye Sue married a man named Lawrence J. Heberling Jr. who was born (and lived his whole life) in Colville, Washington. That was the very place that Rubin Nemon died.
He was buried at the Highland Cemetery in Colville, Washington (find a grave). Why not in Oklahoma or Texas where he apparently lived almost all of his life?  This I don't know.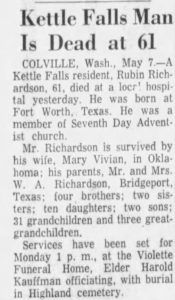 His beloved wife would go on to live until October 6, 1991. She would be buried in Parker County, Texas (find a grave). This means she was alive when Rubin Nemon died in 1960. That's always the part that confused me. There is no record of a divorce. So if his wife was alive and living in Texas when he died, why was he not buried where she was living?