Alex Jessy Richardson was also known as Jake to his friends and family. He also has gone by the name of AJ.
Alex Jessy Richardson was born on July 5, 1935 in Paradise, Texas. His father was Rubin Nemon Richardson and Mary Vivian Phillips. He was my great uncle.
On October 26, 1970 he married Anita Gayle Neeld in Galveston, Texas. They lived in Pasadena, Texas before moving to Duncan, Oklahoma in the mid 1980's. He lived there the rest of his life.
Together they would have 6 children, 2 sons and 4 daughters.
Alex
Bobby
Jana
Lisa
Lori
Renita
He died on November 7, 2007 in Duncan, Oklahoma and was buried in Comanche, Oklahoma. (find a grave)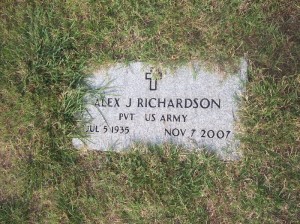 Duncan Banner Newspaper published is obituary on Sunday November 11,2007.
ALEX "JAKE" JESSY RICHARDSON, 72, of Duncan, passed away Wednesday, Nov. 7, 2007, at his home in Duncan.
Funeral service will be at 11 a.m. Tuesday at the City Heights Baptist Church in Duncan, with Rev. Jimmy Green officiating. Burial will be in the Fairlawn Cemetery under direction of Comanche Funeral Home.
Jake was born July 5, 1935 in Paradise, Texas, to Rubin and Mary Phillips Richardson.
He married Anita Neeld on Oct. 26, 1970, in Galveston, Texas, and they made their home in Pasadena, Texas.
They moved to Duncan in the mid 1980's, where they have lived ever since.
Jake owned and operated A.J.R. Construction, doing cement work and constructing metal buildings. He enjoyed playing pool and loved playing the guitar.
He is survived by his wife, Anita Richardson of the home; two sons, Bobby Richardson and his wife Jolyn of Roosevelt, Utah, and Alex Richardson of Duncan; four daughters, all of Duncan, Lisa Thomas and her husband Mike, Lori Bates and her husband Tim, Renita Hackler and Floyd, and Jana England; nine grandchildren; and seven great-grandchildren; six sisters, Kittie McReynolds, Pat Scifres and Betty Heard, all of Weatherford, Texas, Ada Sellers of Azle, Texas, Bille Reed of Stigler, and Bobbie Heberling of Spokane, Wash.
Jake is preceded in death by his parents, one brother and seven sisters.