John Durk Richardson was born on April 22, 1847, in Moore County, North Carolina. He died on January 17, 1926, in Balsora, Texas when he was 78 years old.
In the 1880 United States census (he was 33) we know that he moved his family to Parker County, Texas which Google Maps tells us is just west of the Dallas / Fort Worth area. Prior to that, he lived in North Carolina working on his father's farm. While in Parker County, Texas the census shows us that he was still a farmer and Mary was a housewife.
Born: April 22, 1847
Died: January 17, 1926
Father: Thomas Richardson
Mother: Nancy (maiden name unknown)
In 1865 when he was 18 years old, he served in the American Civil War in the Tennessee Calvary Company E, United 9. The American Civil War lasted from 1861 to 1865 so that means when he turned 18 he immediately joined the war which was just as it was ending. Being from Tennessee, that means he fought on the side of the Union during the war. He may have entered the war as early as 1863 which would have made him 16 at the time.
This information is somewhat confusing and I've been unable to verify the actual date he entered the war, only the date he got out. One document shows Enlisted: Sept. 28 and Mustered: Oct. 13 but it does not indicate which year. So he either served a few months in 1865 or from 1863 to 1865.
Here is what I can say for sure – he served in the 9th regiment of the Tennessee cavalry, company E. The 9th Tennessee Volunteer Cavalry Regiment served in the Union Army during the American Civil War. He was a private when he both entered and left service.
At 19 (September 1866) he married Mary Elizabeth Mckensie and together they had at least six children.
At 72, (in 1919) he and his wife were living in Balsora, Texas and that is when she died. He went on to live another 7 years. He died on January 19, 1926.
John Durk Richardson and Mary had 6 children.
Sarah Caroline Richardson (1867-1953)
Kendrick Thomas Richardson (1869-1951)
Margaret Jane Richardson (1871-1945)
William Alexander Richardson (1874-1971)
John Henry Richardson (1878-1924)
Julie Richardson (1879-1894)
He died in a county (Wise, Texas) that has a lot of their records available to the public online, but I've been unable to get my hands on his actual death certificate. I have placed an order with the state of Texas but I didn't have any luck.
We know exactly where he is buried and his date of death and birth is on his headstone, but sadly the state of Texas for some reason has no record of his death.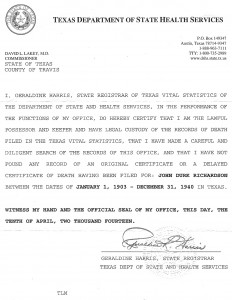 John Durk Richardson is buried in Balsora, Texas next to his beloved wife Mary (view entry here).
John Durk Richardson had a brother, Isham Thomas (two years younger than John Durk) who followed his brother to Wise County Texas, in the Wilson Prairie area, prior to moving to Oklahoma. His brother Isham Thomas is buried in the area of Tishomingo, Oklahoma. Here is a photo of the two brothers. The photo was provided by Anne Richardson, who got it form her father's first cousin, Karen Richardson.
She says that the one on the far left is John Durk Richardson (1891-1947), We are guessing that the young man second from the left could be his brother James Richardson. Next, we have no idea who the little girl could be. Lastly, we are also assuming that the older woman and man are Elizabeth J and Isham T Richardson since it really looks like a family picture and John was his son.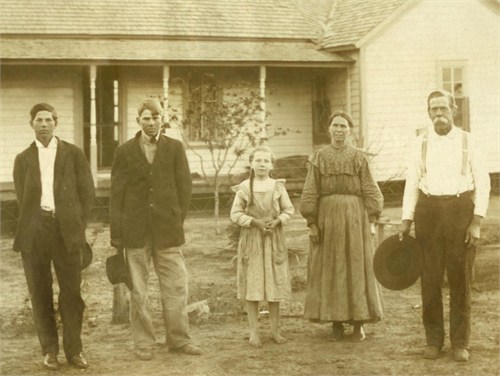 I don't know that she is correct in naming who is who in this photo simply because John Durk is two years older than Isham. The man on the far left is clearly way younger than the man on the far right. But if you look at the picture of John Durk with his wife, taken years later, you'll see the man on the far right looks very much like John Durk, making the woman at his side his wife.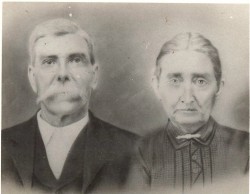 John Durk Richardson is my 3rd Great Grandfather
In 1850 John Durk was 3 years old. He was living in Moore, North Carolina with his father Thomas and his mother Nancy as well as his sister Lydia who at the time was 5 and his little brother Isham who was 1.
What's interesting is that just 10 years later, during the 1860 census, he was still living with his siblings but not either of his parents. During the 1860 census, they were living with their grandparents Thomas and Nancy.
We catch up with him against in the 1880 census where John Durk is now 34 years old and is married to Mary Elizabeth. He's a farmer living in Parker, Texas and is working as a farmer.
During the 1880 census, he listed children are Sarah Caroline, Kendrick Thomas, Margaret Jane, and John Henry.
What about William Alexander and Julie? Julie was born in 1879 so it's possible she wasn't born during the time of this census but what about William Alexander? Where was he in 1880?
S.C. Richardson – Sarah Caroline
K.T. Richardson – Kendrick Thomas
M.J. Richardson – Margaret Jane
A.R. Richardson ??? William Alexander?
J.H. Richardson – John Henry
We know that John Durk is the father of William Alexander because we have William's death certificate. It tells us that his father was John Durk Richardson and his mother was Mary McKinsey (aka Mary Elizabeth Mckensie).
It is possible the AR Richardson is William Alexander. I'm not sure what the initials AR would stand for though. During the course of his life, William Alexander did go by "Alex" so it's possible A.R. stands for Alex Richardson.