Alice Joann Price has also been known as Alice Price, Joann Price, Alice Richardson, Joann Richardson, Alice Smith, Alice Cash, and Joann Cash. She is my grandmother.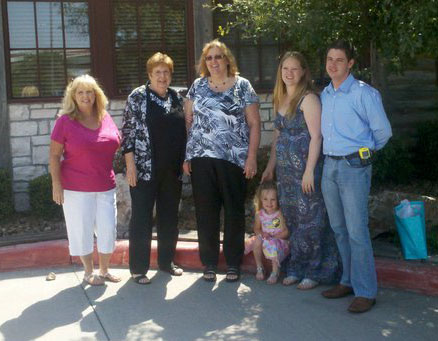 This photo is from 2011 (from left to right) her daughter Joanna Wright, Alice Joann Smith, Kelley DeVoe, eldest daughter of Daniel Wright, Tabitha Wright, and Daniel Wright.
Born:  June 30, 1935 in Waurika, Jefferson, Oklahoma
Married : Reuben Namon Richarsdon Jr.
Date of Marriage :  August 26, 1950 in Henrietta, Texas
Date of Divorce :  December, 1957 in Oklahoma City, OK
Children produced from this marriage : 3
Benjamin Wayne Richardson (July 19, 1951)
Joanna Sue Richardson (February 19, 1954)
Frankie Richardson (November 22, 1955)
On November 14, 1961 she had a daughter by the name of Kelley Lynn McDaniel. (Father unknown)
Aunt Kelley was put up for adoption but we would later be re-united with her after she turned 18.
I don't know the date she married her next husband which was Jean Noel Cash. She had 3 kids, he had 3 kids – it was like a real life Brady bunch. They would stay married until he died on July 14, 1996.
They had no children of their own, but again with 6 kids between the two of them, they more than had their hands full.
Married: Fredrick Milton Smith
Date of Marriage:  November 12, 2005 – Conroe, Montgomery, Texas
Marital Status:  Still Married (He died on August 31, 2016).
Children produced from this marriage:  0
Alice Joann Price currently lives with her husband Fred Smith in Conroe, Texas.  Alice moved to Houston, Texas from Oklahoma to live with her granddaughter Tracy Joann Richardson (me) after the death of her husband Jean Noel Cash.  It was at that time she was introduced to Fred Smith.  Our housekeeper had family who lived in Conroe near Fred who was widowed.  They knew he was seeing a friend and/or travel companion of or near his own age so Debbie introduced the two and they were inseparable ever since.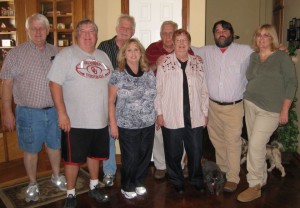 I think this picture was from Thanksgiving 2012. Pictured from left to right ….
Eddie Wright, Frankie Richardson, Benny Richardson, Joanna Wright, Fred Smith, Alice Joann Price (Richardson, Cash, Smith), Malcolm DeVoe, Kelley Devoe.
Here is an updated picture of the family taken on November 25, 2017. From left to right – Joanna, Alice Joann, Benny, Kelly, and Frankie.