In the intricate tapestry of my family tree, the story of Euphrosina Wilhelmina Wageli, born on March 14, 1716, in Lampertheim, Bergstrasse, Hessen, Germany, emerges as a particularly fascinating chapter.
The youngest child of Han Philipp Wegerle and Barbara Kessler (Barbara Keßler), Euphrosina, my 7th great-aunt, captures my imagination not just by her direct relation but also by the uniqueness of her name.
The quest to unravel Euphrosina's life led me down a path filled with linguistic nuances and historical discrepancies. The variations of her last name in German records, including Waegerle, Wegerle, Wageli, and Wägeli, amongst others, depict the fluidity of language and naming conventions over time.
Wegerlin
Wegelin
Wägerlin
Wegerlein
Wägele
Wägeli
Waegerlen
Waegerlin
Weckherlin
Weekerlin
Wegerle
Weggerly
Weikhelin
Wiegerlin
Wigerli
Wigerlin
Waeckherlin
Wuekherlin
A notable aspect of this journey was understanding the pronunciation of 'Wägeli'. A consultation with a German translator revealed the intricacies of phonetic translation, approximating 'wu-ghe-ly' as the closest pronunciation for an English speaker, albeit not entirely accurate.
My research, documented through various records like 'Germany, Select Births and Baptisms, 1558-1898', initially led me to believe Euphrosina married Ludwig Gottlieb Siber and had two daughters, Rosina Barbara and Wilhelmina Barbara Sieber. However, this narrative took a turn upon discovering Ludwig's emigration to Russia in 1862, raising questions about Euphrosina's life there.
Further examination of baptism records showed variations in spelling her name, a common challenge in historical document translations. This need for cross-referencing sources became evident when I stumbled upon another individual, Euphrosyne Wilhelmine Wagerle, born in 1819, with a strikingly similar name and marital connection to a Ludwig Gottlieb Siber.
This 103-year age gap led to a crucial realization: the Euphrosina born in 1716 could not be the mother of the children born in the mid-19th century. The puzzle deepened. How then does Euphrosina fit into the Han Philipp Wegerle and Barbara Kessler lineage?
The marriage of Hans Philip Wegerle and Barbara Keßler in 1691 in Lampertheim provides a documented connection to the Wegerle family. But the mystery around Euphrosina's life and lineage persists, underscoring the complexities and surprises inherent in genealogical research.
PLEASE NOTE:

I am taking you on a journey of research to show you how things you are sure are true, later turn out not to be. Please make sure you read all the way through this document before confirming any facts in your own family tree. As you get to the bottom, you find out right about here I made a mistake in my research. I keep it in here to share with you how I confirmed and discredited documented "facts" from others.

There is a record called the 'Germany, Select Births and Baptisms, 1558-1898 (Deutschland, ausgewählte Geburten und Taufen, 1558-1898)' and that tells us her full name is Euphrosina Wilhelmina Waegerle and that she married Ludwig Gottlieb Siber and they had a daughter named Rosina Barbara Sieber. Rosina was born on October 26, 1859.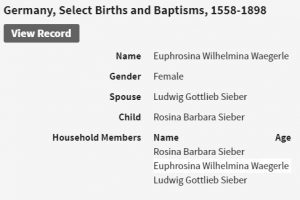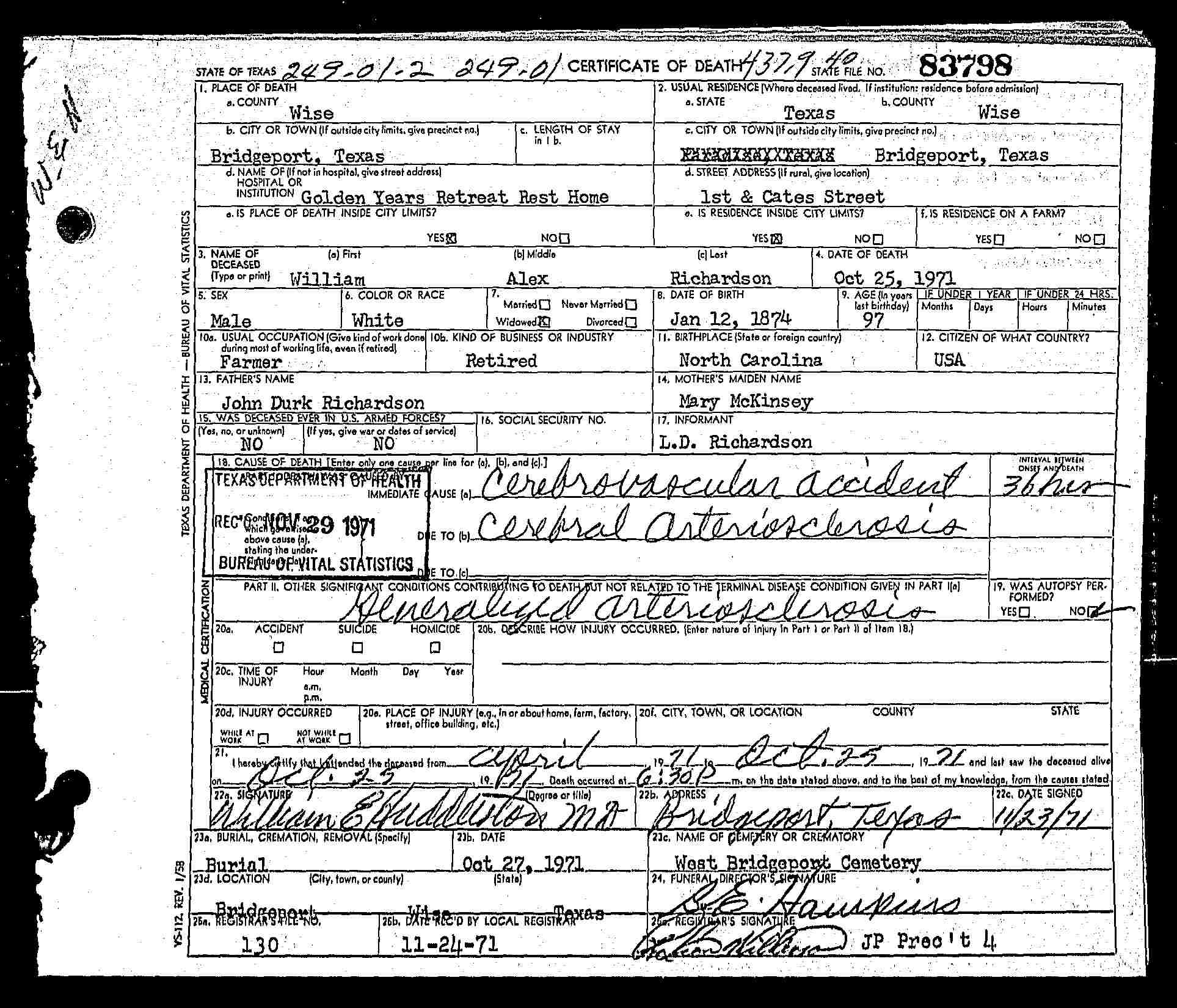 We have another similar document showing us that they had a second daughter named Wilhelmina Barbara Sieber. She was born on May 20, 1858.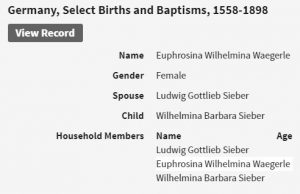 Ludwig Gottlieb F Sieber, her husband appears to have emigrated to Russia in March of 1862. It says he was born in Grossingersheim, Germany. His children were still very young, so we can assume that his wife Euphrosina went with him and that is where she died.
On other of Wilhelmine Barbara Sieber's baptism records, her name is spelled "Euphemia Wilhelmine Sieber". However, that's very easily a translation error as you can see from the original below it's not easy to read.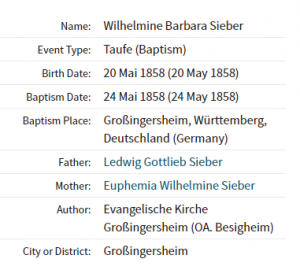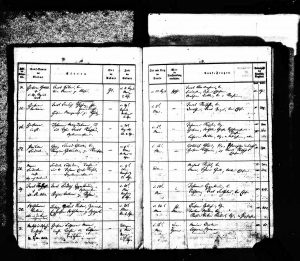 On Rosina Barbara Sieber's other baptism records, they also misspell Euphrosina's name. Again a common thing when it comes to translation of texts. This is why you always need multiple records to confirm the same fact – as no one source is every truly definitive.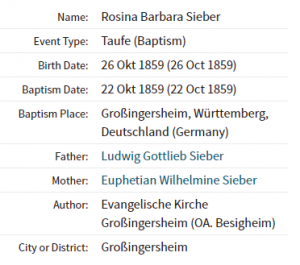 Now we come to a stump in the road. There is another out there who goes by the name Euphrosyne Wilhelmine Wagerle [Euphrosyne Wilhelmine Waegerle].  She was born on August 6, 1819, and when she was 37 she married a Ludwig Gottlieb Siber.
However, there is a 103-year difference between our Euphrosina and this Euphrosyne. This later Euphrosyne's parents are …
| | |
| --- | --- |
| Father: | Johann Christian Waegerle |
| Mother: | Rosine Catharine Enderle |
So now let's go back to our Euphrosina who was born in 1716. That's when I realized her two daughters couldn't possibly be her two daughters because that would mean she would have been like 142 years old when she gave birth.
How do we know she belongs on the Han Phillip Wegerle and Barbara Kessler tree?
We know that Hans Philip Wegerle (Hanß Philip Wegerle) married Barbara Keßler (Barbara Kessler) on June 19, 1691. They were married in Lampertheim, Bergstrasse, Hessen, Germany. This is a documented fact. This also is where all the other Wegley's from my tree have been from so it all matches up so far.