Frederick Wegley is my great-grandfather. He was born on August 20, 1887, in Kane, Pennsylvania, and died on November 28, 1950, in Okmulgee, Oklahoma.
Frederick Wegley married Tillie Blanch Edwards on February 4, 1920, when he was 32 years old. They married in Huntington, West Virginia.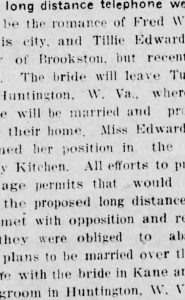 Together they had at least 6 children, including my grandfather,  Raymond Wegley.
John Wesley (1923-1982)
Betty A (1924-2010)
Raymond Edward (1925-1992)
Ruth Minerva (1928-?)
Dora Mae (1930-1970)
Gretta L (1935-?)
Frederick Wegley served in both World War I and in World War II as did his sons John Wesley and Raymond Edward.
Here is a blurry copy of his WW1 draft registration card which tells us that he is of medium height, slender build with light brown hair and light grey eyes.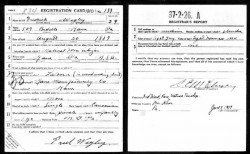 It also says he was employed as a laborer doing woodworking for a manufacturing company. It also reveals he was in the national guard in the infantry division for 1 year prior to this form being filled out (June 5, 1917) at which time he was 29 years old.
At 54 years old he filled out another draft card to join the fight during WWII. Notice on the document he lied and say he was 52, born in 1889, not his actual year of birth of 1887.
These two documents tell us a little more about the man. He was 5 foot 7 1/2. Again we learn he has brown hair and grey eyes and his complexion is described as "ruddy", as compared to sallow, light, dark, light brown, etc.
This was signed on April 27, 1942. Fred's eldest son John Wesley would join the war on February 19, 1943, so almost a year later.  Then his youngest son Raymond would join on November 29, 1943 when he was only 17.
So the father lied and said he was younger so he could join the war and fight for his country and his son would lie sand say he was older to do the same.
Fred died in 1950 and was buried in a grave in Okmulgee, Oklahoma where his youngest son was living at the time.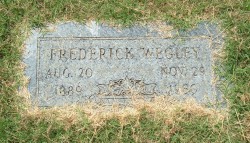 His wife Tillie would die in 1984 and would be buried nearby.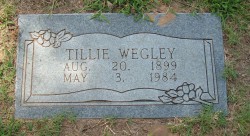 Now here is something interesting … notice his gravestone said his year of birth was 1889. But we know from countless census records he was actually born two years earlier. Well actually now that I examine the records more closely, I don't know for sure.
In the 1900 census it tells us that he was 12 years old at the time and he was born in August of 1887. 1900-12 actually puts him born in about 1888
In the 1910 census however he was 21 at the time and it says he was born "about 1889".
In the 1920 census it tells us he was 30 at the time and that means he was born about 1890. During this census he was still living with his parents and was a box maker and a window and glass factory.
In the 1930 census it tells us he was 39 years old and that he was born in about 1881.
In the 1940 census it tells us he was 50 years old and that he was born about 1890.
I am told that it wasn't uncommon to estimate things back then when you were for sure. But every time it has something different so I'm not sure what to say about it.
The 1900 census and the WW1 draft registration card says August 1887. So for now we'll keep it at that.