Glen Edward Price is my grandmother's older brother – making him my Great Uncle. He went by the name "Buddy". Some people spell his name as Glenn Price but it was in fact Glen, not two n's.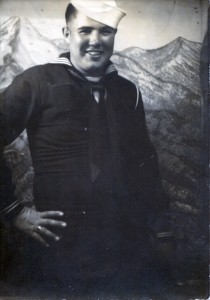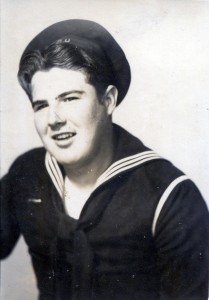 He was born on July 27, 1927, in Waurika, Oklahoma.
His father was Benjamin Franklin Price and his mother was Ethel Ann Hopson.
His wife was Dorothy J Richardson. Apparently, she was no relation to us, it was just a crazy coincidence that she had the Richardson name. 🙂
They had a total of 4 children, Glen Jr, Gloria Jean, Freddy Dan and Joey.
Freddy Dan died on January 18, 2018. He had a stroke about 3 years prior and a friend of his had been taking care of him. Glen Jr. passed away about two years prior to that so about 2016 and that meant as of January of 2018 only Gloria Jean who they called sissy was still alive. Her family thought that she was still living somewhere in Mexico but know little else about her whereabouts.

He died of a cardiac arrest, due in part to his morbid obesity on August 3, 1982. His death certificate also tells us that he was a wrecker driver in Fort Worth, Texas. He was 55 years old. (
Find a grave link
)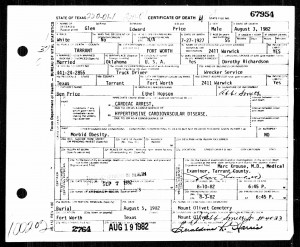 At one time he lived at 2411 Warwick Ave, Fort Worth, TX, 76106-7557 and at another time his recorded address was 2226 Robinwood Dr, Fort Worth, TX, 76111-5117.
His photos are obvious shots of him in the Navy. His death certificate also states that at some time he was in the US Armed Forces. My grandmother (his younger sister), Alice Joann Price thought he went into the US Navy in 1941, but I knew that couldn't have been right since then he was only 14. I found it though on his US Department of Veteran Affairs Death File.
He was in the Navy. He enlisted on November 29, 1944. He was released on May 11, 1946.