Howard J. Wegley, my great-granduncle, was born on April 26, 1903, in the small town of Kane, Pennsylvania. His life, marked by both personal tribulations and the complexities of an early 20th-century American, came to a premature end at the age of 33.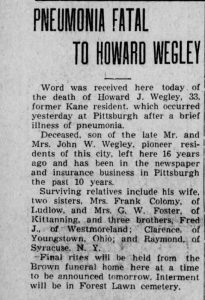 On January 17, 1937, Howard succumbed to a fatal bout of pneumonia. This information comes from his obituary, published in The Kane Republican on January 18th, which stated he died "yesterday" and his death certificate.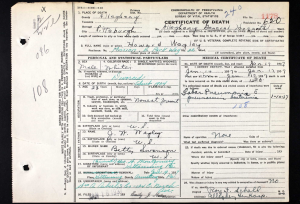 At the time of his passing, Howard resided at 22 Mission East Parkway, Pittsburgh, PA. His health declined rapidly after he first reported symptoms on January 10th, leading to his hospitalization on January 14th at Allegheny General Hospital, where he passed away in the early hours of January 17th.
Howard's personal life bore its share of complexities. He was married to Olive Rush Hooks, with whom he had a son, Leroy G. Wegley, born on September 16, 1930. However, a contrast emerges in records regarding his marital status at his death. While his obituary mentioned he was survived by his wife, his death certificate indicated he was divorced. Olive later remarried in 1948 to William Macaluso.
A significant chapter in Howard's life was his sentence on March 11, 1935, to the Allegheny County Workhouse, where he was registered as Prisoner #39227. This facility, situated near Blawnox, Pennsylvania, functioned as both a workhouse and an inebriate asylum, operational from 1869 until its closure in 1971. It primarily housed inmates convicted of minor offenses, who contributed to the maintenance of its extensive farmlands, which spanned roughly 1100 acres and included a variety of crops and farm animals.
Howard's physical description, as recorded in the prison records, noted him to be 5'7″ tall, weighing 113 pounds upon entry and 122 pounds at release. However, the nature of the crime for which he was convicted remains unclear due to illegible records.
This biography seeks to shed light on the life of Howard J. Wegley, a man whose journey reflects the trials and societal norms of his era. His story is a fragment of the larger tapestry of American history in the early 20th century.
I'm not quite sure what crime he was convicted of. It's listed (see image below), but I can't read what the word is.

Maybe you'll have better luck. I've included his crime listed below, next to the others, to give you some sort of context.