John Henry Richardson is the brother of my 2nd great-grandfather, William Alexander Richardson. He is the son of John Durk Richardson.
We know that during the 1880 US Census he was 2 years old, so that means he was about about 1878. This makes him 4 years younger than William Alexander.
This record also says that he was born in Texas, not Tennessee like so many others list.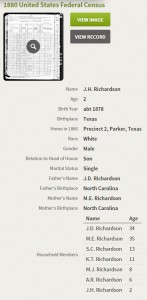 When I corrected that information on my bio is where I was able to find all my information about him.
John Henry Richardson was born on January 12, 1878 in Wise, Texas. We were able to get this information from his World War 1 Draft Registration Card.
John Henry Richardson married Lou Ella Fortner on May 4, 1897 in Smith, Texas.
He and his wife, Ella Lou (aka Lou Ella) Fortner, had quite a few number of children.  During the 1920 census we see that both he and his wife are 43. At the time they list off 7 children, however that's not even half the story ….
Claude
Lizzie
Hazel
Lela
Dora
Fannie
JD
Dewie
In all they had at least 16 (maybe 17) children, several of which died young.
Claude T (1896)
Infant Son (possibly twins – Died – 1898)
Anna Richardson (1899)
Kendrick (1901)
James Clifton (1903)
Lizzie (1906)
Jessie Lena (1907)
Elsie (1908)
Hazel Martha (1908)
Infant Daughter (Died – 1910)
Lela Gertrude (1910)
Dora Carolina (1913)
Frances Mae (1915)
Fannie (1916)
Jake D (1918)
Dewie W (1919)
John Henry died at the age of 26 on January 17, 1924, in what today is Waurika, Oklahoma.