John Wesley Wegley was born on March 5, 1923, in Charleston, West Virginia. He is the 2nd John Wesley Wegley in my family tree. This particular John Wesley is my great-uncle – the older brother of my grandfather.
His father was Fredrick Wegley and his mother Tillie Blanch Edwards.
Although John Wesley was born in West Virginia, he wasn't there long. By 1930 we find him with his family already living in Westmoreland County, Pennsylvania, thanks to the 1930 United States Federal Census.
He was 7 years old at the time and as you might expect, attending school. He, however, wouldn't graduate from high school. Times were hard in this period in history and he had to quick high school after his 2nd year.
At 17 years old he was working in a glass factory just like his father.  This was a new job for him because we can see in 1939, he had listed 0 hours work and that is usual occupation is "new worker".
On February 12, 1943, John Wesley Wegley enlisted in the US Army. His enlistment term was for the duration of the War or another emergency, plus six months, subject to the discretion of the President or otherwise according to law.
It is on his draft registration card that we learn he was 5 foot 5 inches tall with light complexion, brown hair, and blue eyes.
He obtained the rank of Staff Sergeant in the United States Army. According to the US Department of Veterans Affairs, his official enlistment date is February 20, 1943, and his release date was December 6, 1945.
At the age of 23, John Wesley Wegley married Norman Jean Pocky. She was 21 years of age at the time. Their marriage took place on April 1, 1946, in Virginia.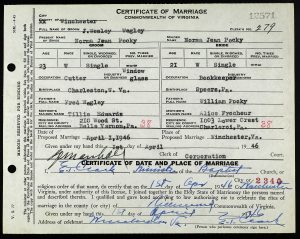 It is in this document we get further proof that his parents were Fred and Tillie Wegley.
Together John Wesley and his beloved wife Norma Jean had four children, Lynn (born in 1947) and Wesley (born in 1952), Janine (1955) and then Donald (1959).
 He died on November 1, 1982, in Okmulgee, Oklahoma. He was buried at the West Lawn Cemetery in Henryetta, Oklahoma.