Lewis Weigley is the child of John Weigley and Elizabeth W. Croft. He is my first cousin, 5x removed. You may ask why I would care about someone not in my direct line, well quite honestly because sometimes we find documents in side-branches of our family tree that help us prove the identity or dates of those family members in our direct line. Such is the case with Lewis or Louis Weighley.
He married Eve Beeghly (Weighley?) on October 2, 1831.
B:16 Feb 1810 in Brothers Valley, Somerset, Pennsylvania, United States
D:25 Dec 1885 in Milford, Somerset, Pennsylvania, United States
He is buried in the Pleasant Hill Brethren Cemetery in Somerset County, Pennsylvania.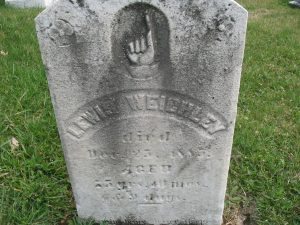 He and his wife had quite a few children.
Elizabeth Weighley (1831-1909)
John S. Weighley (1835-1918)
Mary Ann Weighley (1838-1918)
Joseph Weighley (1840-1844)
Sara Weighley (1844-??)
Ezra J. Weighley (EJ) (1846-1913)
William Lewis Weighley (1849-1928)
In the 1850 US census, we get a confirmation of this. We know that Lewis is 39 at the time. He lived with his wife Eve who as 38 and then 6 of his children, the youngest of which was only 1 years old.
The one child not there was Joseph who died when he was only 4 years old (1840-1844).
| | |
| --- | --- |
| Lewis Weigley | 39 |
| Eve Weigley | 38 |
| Elisabeth Weigley | 17 |
| John Weigley | 14 |
| Mary A Weigley | 12 |
| Sarah Weigley | 6 |
| Ezra Weigley | 3 |
| William Weigley | 1 |
Here is the death certificate for his youngest child, Ezra who was also known as EJ.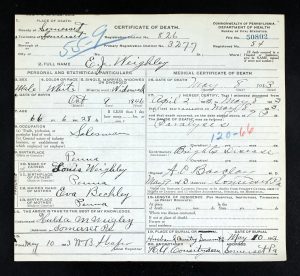 Here is the marriage application for John Wegley (son of Lewis). John married Emma when he was 62 and she was 60.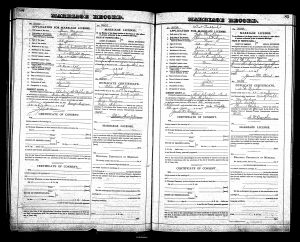 So speaking of documents, what is his name? Lewis or Louis? It looks like it is in fact Lewis. Here, in fact, is his wife's death certificate to clear up the matter.