Minerva Pearl Wegley, aka Minnie Pearl was born on March 20, 1887 and died on July 22, 1938.
She was the eldest child of John Wesley Wegley and Helen Elizabeth Swanson.
She was born in Kane Pennsylvania and lived in Pennsylvania her entire life. She died on July 22, 1938 in Kitanning.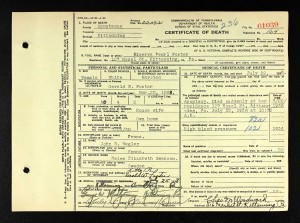 She had high blood pressure and died suddenly at her home, which caused her to have a stroke. She was only 50 years old. The incidence took place at 10:30 in the morning.
This was the exact same thing that her father died of.
When she died, they lived at 127 Hazel Street in Kittanning, PA. This house is still around to this day. It's a 4 bedroom, 1 bath home with about 2,154 square feet. The home was originally built in 1912 and has a full basement with a detached garage.