Robert Thomas Hoag Junior was born on October 5, 1933, in Monessen, Pennsylvania. Please note: There are variations in his DOB. Some sources say October 5, 1933, while other official government documents state May 10, 1933. I will continue my research on this and let you know when I know 100% for sure what his birthday is.
His military records say October 5, 1933, but there is a social security claim that says he was born on May 10, 1933. However, the social security death records also say October 5, 1933. His gravestone says his date of birth is May 10, 1933.
He was the youngest child and the only son of Robert Thomas Hoag and Emma Marie Assel. Here he is listed in the 1940 US Census.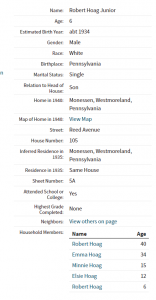 He died on September 4, 1988.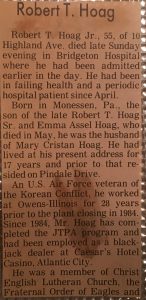 According to Society Security death records, his social security number was 189-26-8975.
He served in their Air Force. His enlistment date was January 21, 1952, and he was released on January 20, 1956. This means he was on active duty during the Korean War.
He married Mary Cristan. Through family members, I am told she had a child but not from Robert Thomas Hoag Junior. Together they didn't seem to have any children of their own.