Howard Wegley was born on April 26, 1903, in Kane, Pennsylvania. He was my great-granduncle.
Howard J. Wegley died at the age of 33 from a fatal bout of pneumonia. His date of death was January 17, 1937. You'll see in his obituary which was posted on January 18th that it said he died "yesterday" making his death the 17th. This was printed in The Kane Republican, on page six.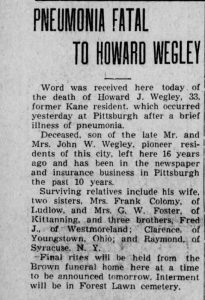 We also know his date of death from his death certificate.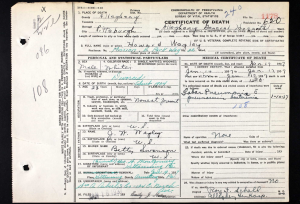 It was from this that we learned at the time of his death he lived at 22 Mission East Parkway, in Pittsburgh, PA. We also know that he first reported having symptoms on January 10th and admitted for care on January 14th. He died a few days later on January 17, 1937, at 12:50 am at Allegheny General Hospital.
His obituary says he was survived by his wife but his death certificate says he was divorce. His wife was Olive Rush Hooks. She would go on to remarry in 1948 – a man by the name of William Macaluso.
Howard Wegley and Olive Rush Hooks were married on. They had one child together, a boy named Leroy G. Wegley. He was born on September 16, 1930 (he died on June 19, 2014).
Howard Wegley was sentenced on March 11, 1935, to the Allegheny County Workhouse (Prisoner # 39227.
The Allegheny County Workhouse was a prison that was located adjacent to the town of Blawnox, Pennsylvania. Its full name was "Allegheny County Workhouse and Inebriate Asylum". The first inmates were received in 1869, and the facility closed in 1971. The prison housed mostly inmates convicted of minor offenses. Many of those prisoners maintained a farm of about 1100 acres (445 ha), which contained apple orchards as well as many other crops and many different types of farm animals.
It was in this record we learned a little more about what Howard looked like.  He was 5'7″, and weighed 113 pounds when he entered and 122 when he left.
I'm not quite sure what crime he was convicted of. It's listed (see image below) but I can't read what the word is.

Maybe you'll have better luck. I've included his crime listed below next to the others, to give you some sort of context.