Jonathan George Wegley was born on September 3, 1836, in Somerset Pennsylvania. He died on March 1, 1892, in Lockington, Shelby County, Ohio. We know this date of death from his gravestone.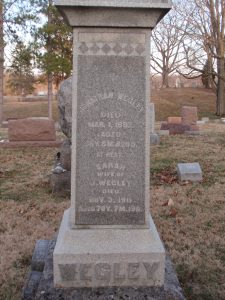 Jonathan George Wegley is my 2nd great grand uncle
Jonathan George Wegley married Sarah Circle in Mercer County, Ohio on November 21, 1857, when he was 21 years old. Together they had at least 11 children.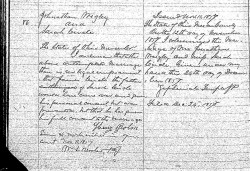 George Wegley (1859 – 1862)
James E Wegley (1860 – 1937)
Mary C. Wegley (1863 – 1932)
Emanuel Wegley (1864 – 1936)
Fredrick Wegley (1866 – 1951)
Joseph Wegley (1867 – 1946)
Eva Jane Wegley (1869 – 1939)
infant Wegley (1870 – 1870)
Adeline (Sarah) Wegley (1871 – 1948)
Daisy May Wegley (1876 – 1940)
Olive Alta Wegley (1884 – 1960)
Here is the death certificate for his son Fredrick Wegley. This shows us that we have the right family – Jonathan Wegley and Sarah Circle.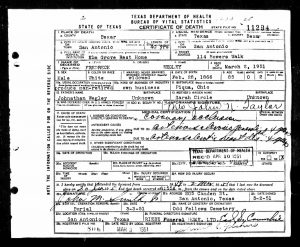 Jonathan George would have one son (Joseph) that would go on to be mayor of Williston, North Dakota and another son who ran a local watering hole or gathering place. Only problem was that it seems the area was "dry" and he was caught or at least accused of selling liquor. He would later be acquitted. Here is the text from the local paper at the time about the incident.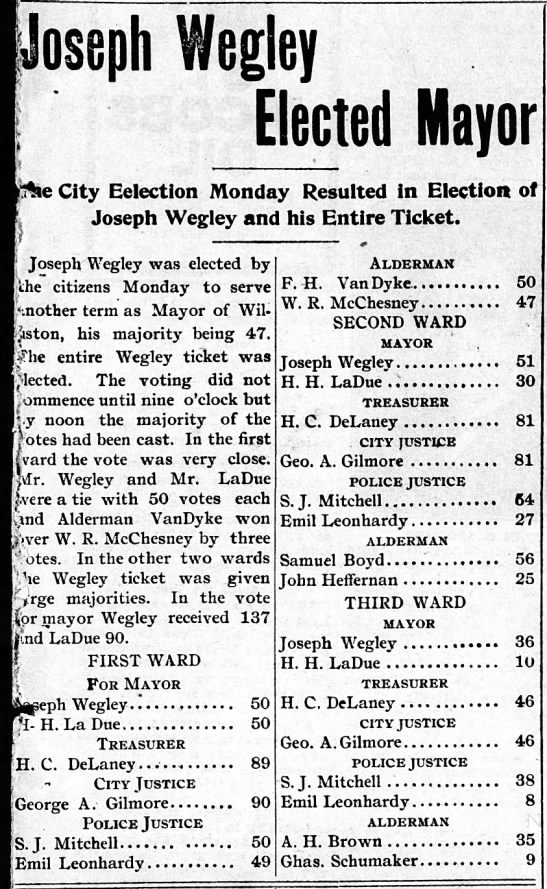 'Grand Forks Herald', Grand Forks, North Dakota.  8 Nov 1907
Williston, N. D., Nov. 7 – A warrant has been issued for Fred Wegley, a brother of the mayor, the charge being the illegal sale of intoxicating liquors in what is commonly known as "Wegley's Pig," the joint in the lower regions of the concrete building on East Broadway.  The warrant was issued this morning and is now in the hands of the sheriff, who will serve it as soon as the defendant can be found, the understanding being that he has left the city temporarily.
'Grand Forks Herald', Grand Forks, North Dakota.  10 June 1909
Williston, N. D., June 9 – Fred Wegley has been acquitted.  The jury in the case was out just three minutes this morning when it returned a verdict of not guilty.  This case has attracted attention for the last year and a half on account of the accused being a brother of Former Mayor Joseph Wegley, who has the reputation of being the man who cleared Williston of blind pigs, and it was asserted that the mayor was protecting his brother and allowing him an exclusive righty to conduct a "pig".
  The accused was tried three times before justices of the peace and each time found not guilty, and then was indicted by the grand jury, on which indictment he was just found not guilty.
  The outcome of the case convinces Wegley's friends that the case was only a piece of spite work on the part of those opposed to Mayor Wegley to throw suspicion on the sincerity of his administration.
Here's a crazy story about how he became mayor in the first place.
Fact: First North Dakota mayor accused of horse rustling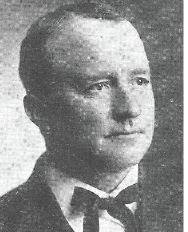 Williston's first mayor, William Denny, did a lot to make it the state's fastest-growing city during the first decade of the 20th century, growing from 763 people in 1900 to 3,124 in 1910, a rate of more than 300 percent. Denny was also suspected of being the ringleader of a large horse-rustling organization.
Denny established the first bank in Williston when he arrived in February 1899. He also had a large ranch on which he raised horses and Hereford cattle. He had connections in Montana where large numbers of horses were brought to his ranch and sold to him at $10 to $30 a head. Because northwestern North Dakota was rapidly filling up with homesteaders, Denny was able to sell each of the horses to the settlers for $150. Initially, most Williston residents considered Denny a shrewd businessman.
In June 1904, Denny was elected mayor and went to work to provide electricity and running water for the residents. He ran unopposed for re-election in 1905, and later that year, Denny was arrested, convicted and sentenced to prison for being the fence of a large horse-stealing enterprise in Montana. He appealed to the North Dakota Supreme Court for a retrial, which was granted to him since key pieces of evidence against him had disappeared. With the major evidence missing, a new trial never occurred, and Denny was set free.
William Henry Denny Jr. was born in New Auburn, Minn., on March 17, 1870, to William Sr. and Marian (Joslyn/Josline) Denny. William Sr. was a gunsmith, and the family moved to the larger town of Glencoe soon after William Jr.'s birth. In 1885, William Jr. attended Anoka Business College and after graduating two years later, "worked at various stores in St. Cloud." In the fall of 1889, he traveled to Montana and found work as a ranch hand on the Diamond G Ranch, which was owned by J. D. "Dad" Williams. Also working for Williams was "Dutch Henry" Jauch (pronounced Yaw), who later organized "the largest horse stealing operation in eastern Montana."
Williams found Denny to be trustworthy and asked the youngster to drive horses to central North Dakota to be sold. On his drives, Denny established friendships in Benson County, and he developed a romantic interest in Kate Huffnail, a school teacher in Minnewaukan. He moved to Minnewaukan in 1897 and, in July, went to work for the Benson County State Bank. After working for a couple of years, learning how to operate a bank, Denny began exploring new opportunities. Seeing that the Great Northern Railway had reached Williston in 1898 and that it was about to establish branch lines from there to towns in the northwestern part of the state, he knew that settlers were soon to follow. Williston did not have a bank, and the town was ideally located, near the confluence of the Yellowstone and Missouri rivers. In 1898, Denny contacted Charles Hilton Davidson, a wealthy Canadian real estate dealer, and Thomas L. Beisaker, a Fessenden banker, who also owned a number of other banks in North Dakota and Minnesota, and the two men agreed to finance the establishment of a bank in Williston. When the Williams County State Bank opened on Feb. 19, 1899, Denny was named cashier and manager. Feeling financially secure, he married Kate on March 8. From the money Denny was making at the bank, he began purchasing land, between Williston and the Montana border, on which to raise cattle and horses for races as he also like to gamble a little bit and that's why visiting the
slotvibe
casino is a good choice for him too. His plan was to buy horses brought in from Montana and sell them to the homesteaders who were coming into northwestern North Dakota. Denny also began selling real estate and, in 1903, established the town of Trenton on his property. On Feb. 3, 1904, Williston was incorporated as a city, and four months later, the newly elected councilmen chose Denny as mayor. According to Joseph Wegley, Denny's successor as mayor, Williston was a wild-west town. Wegley wrote, "There were eleven saloons or blind pigs on Main Street and lots of them in the alleys … blind pigs prevailed and ruled the city." Wegley also pointed out that Denny was in support of the saloons. In 1905, Denny was re-elected, and he sent out bid proposals for the construction of city waterworks and an electrical plant. Besides serving as mayor, he also was kept busy buying and selling horses. On Oct. 26, law officers from Montana went to Denny's ranch and discovered stolen horses. Denny and Art McGahey, the man who delivered the stolen horses, were arrested. Denny's lawyers pointed out that the lawmen had presented insufficient evidence, and the arrest was rescinded. Suspicion that Denny was the fence and possibly the kingpin of a large horse-rustling organization surfaced in September when Jack Teal, a Montana lawman, and George Hall, the stock inspector for the Montana Stockmen's Association, arrested a horse thief. When the thief tried to escape, he was shot and killed. Teal and Hall went through the dead man's belongings and discovered a letter that named Denny as the "chief fence" for stolen horses. This information was corroborated by George Miller, a saloon owner whose establishment had recently been robbed by horse thieves. He told Hall and Sheriff William Griffith about an incident in which Tom Ryan, who had injured his writing hand, had Miller write a letter to Denny. "Ryan was the major rustler in eastern Montana now that Jauch had disappeared." The letter stated that Ryan was having McGahey deliver horses to Denny. Miller agreed to work with the lawmen. To make certain that the horses had been delivered, he went to the mayor's ranch, posing as Ryan's friend. Denny confirmed to Miller that the horses had arrived and had been sold. Denny also told Miller to tell Ryan to stop visiting his bank because "Montana authorities were breathing down his neck." Armed with this additional evidence, law officials returned to Denny's ranch in mid-November to arrest him, but he was gone. He had been tipped off and fled to Benson County. The lawmen located Denny in Churchs Ferry and arrested him, but they were unable to take him into custody because the district judge, John Cowan, issued a habeas corpus decree declaring Denny needed to appear in court before he could be detained. A trial was scheduled for August 1906, but Montana authorities did not believe justice would be served. In December 1905, Montana's governor, Joseph Toole, made a request to Elmore Sarles, governor of North Dakota, that Denny be extradited, and Sarles agreed. However, Denny's lawyers were able to get the extradition order rescinded. At his trial on Aug. 9, 1906, Denny was found guilty of selling stolen horses and sentenced to three years in prison. However, Denny's lawyers appealed to the North Dakota Supreme Court for a retrial. The letters showing Denny's involvement disappeared, before the court met on Oct. 11, 1908, and the court ordered a retrial. Since the prosecution no longer had their most important evidence, a new trial never occurred, and Denny no longer feared conviction. Although Denny was basically free, "he was a broken man and he never recovered." He resigned his positions at the bank and as mayor. Denny remained in Williston and sold real estate until the 1930s, when he lived in Montana and California for short periods of time. He returned to Williston where he died on July 9, 1936.