Joseph Wegley is the son of Jonathan George Wegley and Sarah Circle. He was born on March 29, 1866, and died on January 5, 1946, in his hometown of Williston, North Dakota. Joseph is my 1st cousin, 3x removed.
He went by the name of "Joe Wegley," which we know from an interview he did and through his self-published biography "My Adventures in the West." (See below for more information about the book)
Joseph Wegley married his wife, Tena Olson, who was 14 years younger than him. He first married her when he was 28, and that means she would have been 14. Yes, that is the correct spelling of her first name. I verified the spelling with multiple sources.
I'm happy to say after much digging, I found very specific information proving Tena's date of birth and death. She was born on March 25, 1882, in Union, North Dakota, and she died on March 13, 1958, in Williston. Oh, and her full name is Tena Theodora Wegley.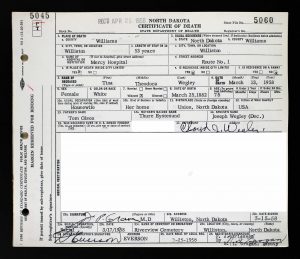 You might find references to "Tina Wegley," which could lead you astray in your research. Just keep in mind her name was legally "Tena," and that is what you'll find on official records, including the US census.
Together they had at least nine children.
Cloyd J. 
Joe A.
Howard Joseph 
Edna Josephine
Theodore J.
Lester J.
Charles Joe
Dora V. 
There was some confusing information about their children. I had to do a lot of digging and cross-referencing to get their children's names down right.  In the 1920 US Census, we can see all of their children listed minus their youngest, Orville, who wasn't born yet.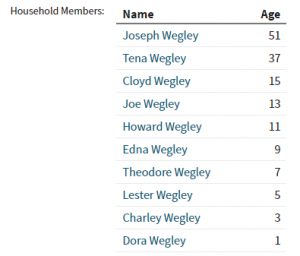 If you have any children (aother than the 9 from above) listed for Joseph and Tena Wegley then you are mistaken and need to re-verify your information.
They lived at 211 East 2nd Street in 1911. right down the street from his brother Fred and his wife Alice, who lied at 223 East 2nd Street. We know this from the town directory which the local paper published from time to time.
Thanks to the US Census records we know that he owned his home and it was valued at $1,500. It was a farm, and he owned a radio (like us having a TV today). He did not go to school but he can read and write.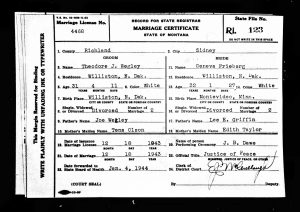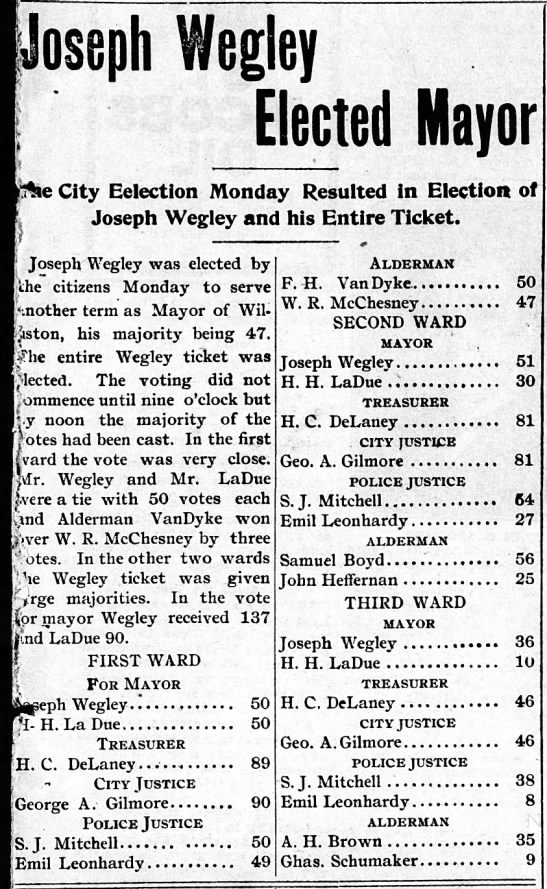 'Grand Forks Herald', Grand Forks, North Dakota.  8 Nov 1907
Williston, N. D., Nov. 7 – A warrant has been issued for Fred Wegley, a brother of the mayor, the charge being the illegal sale of intoxicating liquors in what is commonly known as "Wegley's Pig," the joint in the lower regions of the concrete building on East Broadway.  The warrant was issued this morning and is now in the hands of the sheriff, who will serve it as soon as the defendant can be found, the understanding being that he has left the city temporarily.
'Grand Forks Herald', Grand Forks, North Dakota.  10 June 1909
Williston, N. D., June 9 – Fred Wegley has been acquitted.  The jury in the case was out just three minutes this morning when it returned a verdict of not guilty.  This case has attracted attention for the last year and a half on account of the accused being a brother of Former Mayor Joseph Wegley, who has the reputation of being the man who cleared Williston of blind pigs, and it was asserted that the mayor was protecting his brother and allowing him an exclusive righty to conduct a "pig".
  The accused was tried three times before justices of the peace and each time found not guilty, and then was indicted by the grand jury, on which indictment he was just found not guilty.
  The outcome of the case convinces Wegley's friends that the case was only a piece of spite work on the part of those opposed to Mayor Wegley to throw suspicion on the sincerity of his administration.
Here's a crazy story about how he became mayor in the first place.
Fact: First North Dakota mayor accused of horse rustling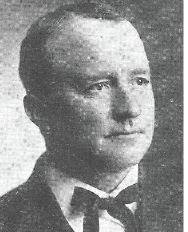 Williston's first mayor, William Denny, did a lot to make it the state's fastest-growing city during the first decade of the 20th century, growing from 763 people in 1900 to 3,124 in 1910, a rate of more than 300 percent. Denny was also suspected of being the ringleader of a large horse-rustling organization. Denny established the first bank in Williston when he arrived in February 1899. He also had a large ranch on which he raised horses and Hereford cattle. He had connections in Montana where large numbers of horses were brought to his ranch and sold to him at $10 to $30 a head. Because northwestern North Dakota was rapidly filling up with homesteaders, Denny was able to sell each of the horses to the settlers for $150. Initially, most Williston residents considered Denny a shrewd businessman. In June 1904, Denny was elected mayor and went to work to provide electricity and running water for the residents. He ran unopposed for re-election in 1905, and later that year, Denny was arrested, convicted and sentenced to prison for being the fence of a large horse-stealing enterprise in Montana. He appealed to the North Dakota Supreme Court for a retrial, which was granted to him since key pieces of evidence against him had disappeared. With the major evidence missing, a new trial never occurred, and Denny was set free. William Henry Denny Jr. was born in New Auburn, Minn., on March 17, 1870, to William Sr. and Marian (Joslyn/Josline) Denny. William Sr. was a gunsmith, and the family moved to the larger town of Glencoe soon after William Jr.'s birth. In 1885, William Jr. attended Anoka Business College and after graduating two years later, "worked at various stores in St. Cloud." In the fall of 1889, he traveled to Montana and found work as a ranch hand on the Diamond G Ranch, which was owned by J. D. "Dad" Williams. Also working for Williams was "Dutch Henry" Jauch (pronounced Yaw), who later organized "the largest horse stealing operation in eastern Montana." Williams found Denny to be trustworthy and asked the youngster to drive horses to central North Dakota to be sold. On his drives, Denny established friendships in Benson County, and he developed a romantic interest in Kate Huffnail, a school teacher in Minnewaukan. He moved to Minnewaukan in 1897 and, in July, went to work for the Benson County State Bank.
After working for a couple of years, learning how to operate a bank, Denny began exploring new opportunities. Seeing that the Great Northern Railway had reached Williston in 1898 and that it was about to establish branch lines from there to towns in the northwestern part of the state, he knew that settlers were soon to follow. Williston did not have a bank, and the town was ideally located, near the confluence of the Yellowstone and Missouri rivers.
In 1898, Denny contacted Charles Hilton Davidson, a wealthy Canadian real estate dealer, and Thomas L. Beisaker, a Fessenden banker, who also owned a number of other banks in North Dakota and Minnesota, and the two men agreed to finance the establishment of a bank in Williston. When the Williams County State Bank opened on Feb. 19, 1899, Denny was named cashier and manager. Feeling financially secure, he married Kate on March 8.
From the money Denny was making at the bank, he began purchasing land, between Williston and the Montana border, on which to raise cattle and horses. His plan was to buy horses brought in from Montana and sell them to the homesteaders who were coming into northwestern North Dakota. Denny also began selling real estate and, in 1903, established the town of Trenton on his property.
On Feb. 3, 1904, Williston was incorporated as a city, and four months later, the newly elected councilmen chose Denny as mayor. According to Joseph Wegley, Denny's successor as mayor, Williston was a wild-west town. Wegley wrote, "There were eleven saloons or blind pigs on Main Street and lots of them in the alleys … blind pigs prevailed and ruled the city." Wegley also pointed out that Denny was in support of the saloons.
In 1905, Denny was re-elected, and he sent out bid proposals for the construction of city waterworks and an electrical plant. Besides serving as mayor, he also was kept busy buying and selling horses. On Oct. 26, law officers from Montana went to Denny's ranch and discovered stolen horses. Denny and Art McGahey, the man who delivered the stolen horses, were arrested. Denny's lawyers pointed out that the lawmen had presented insufficient evidence, and the arrest was rescinded.
Suspicion that Denny was the fence and possibly the kingpin of a large horse-rustling organization surfaced in September when Jack Teal, a Montana lawman, and George Hall, the stock inspector for the Montana Stockmen's Association, arrested a horse thief. When the thief tried to escape, he was shot and killed. Teal and Hall went through the dead man's belongings and discovered a letter that named Denny as the "chief fence" for stolen horses.
This information was corroborated by George Miller, a saloon owner whose establishment had recently been robbed by horse thieves. He told Hall and Sheriff William Griffith about an incident in which Tom Ryan, who had injured his writing hand, had Miller write a letter to Denny. "Ryan was the major rustler in eastern Montana now that Jauch had disappeared." The letter stated that Ryan was having McGahey deliver horses to Denny.
Miller agreed to work with the lawmen. To make certain that the horses had been delivered, he went to the mayor's ranch, posing as Ryan's friend. Denny confirmed to Miller that the horses had arrived and had been sold. Denny also told Miller to tell Ryan to stop visiting his bank because "Montana authorities were breathing down his neck."
Armed with this additional evidence, law officials returned to Denny's ranch in mid-November to arrest him, but he was gone. He had been tipped off and fled to Benson County. The lawmen located Denny in Churchs Ferry and arrested him, but they were unable to take him into custody because the district judge, John Cowan, issued a habeas corpus decree declaring Denny needed to appear in court before he could be detained.
A trial was scheduled for August 1906, but Montana authorities did not believe justice would be served. In December 1905, Montana's governor, Joseph Toole, made a request to Elmore Sarles, governor of North Dakota, that Denny be extradited, and Sarles agreed. However, Denny's lawyers were able to get the extradition order rescinded.
At his trial on Aug. 9, 1906, Denny was found guilty of selling stolen horses and sentenced to three years in prison. However, Denny's lawyers appealed to the North Dakota Supreme Court for a retrial. The letters showing Denny's involvement disappeared, before the court met on Oct. 11, 1908, and the court ordered a retrial. Since the prosecution no longer had their most important evidence, a new trial never occurred, and Denny no longer feared conviction.
Although Denny was basically free, "he was a broken man, and he never recovered." He resigned from his positions at the bank and as mayor. Denny remained in Williston and sold real estate until the 1930s when he lived in Montana and California for short periods of time. He returned to Williston, where he died on July 9, 1936.
My Adventures in the West by Joseph Wegley
He wrote a book called, "My Adventures in the West" which was a story about his life. Here are some excerpts from the self-published book.
I was born on a farm in Mercer County, Ohio. When nine years old, we moved to Lockington, Ohio, in the Miami Valley, one of the most beautiful and fertile valleys I have ever seen. I lived on a farm there four miles north of Piqua on a little inland town named Lockington, located on the Miami Canal, which ran from Toledo to Cincinnati, Ohio. At the time, this canal had both freight and passenger boat service, and the boats were pulled by mules. This transportation was slow, but sure.
From this little town Lockington, we moved out into the country ten miles on a farm which, of course, didn't quite suit my fancy.
My mother was English, Scotch, and Irish. My father was a conservative Pennsylvania German, and he saw to it that we boys did plenty of work; I thought too much.
For some unknown reason, I made up my mind when just a little boy that I would some day be a western cowboy. This idea never faded from my mind, so this farm life didn't quite suit me.
When I was about twenty, my father and I had a disagreement about cultivating corn. Of course, being a boy, naturally, I thought I knew more than my father, so I left home, still having this western idea in my mind. This was in June.
My first job was on a farm. For six weeks I stood in a barnyard pitching cow manure, but I stayed until the job was finished. From there I got a job in a nursery pulling fruit trees. The foreman I thought, and think yet, was a slave driver; but I stayed through the job. Then I got a job in a planning mill in Sidney, Ohio, which I liked fairly well, but the boss didn't raise my wages as fast as I thought he should so I quit this job, and went to work in a wheel factory in Sidney. I worked turning wagon hubs until the factory burned down.
It being fall, I went to a brother's place on the St. Mary's Reservoir which was an artificial lake near St. Mary's, ten miles long and five miles wide, and was a fishing and hunting resort. The life there was fishing, hunting, dancing, drinking, fighting, and all that goes with such a vocation. The associations there were not the best, in fact, they were rough, but being young and looking for thrills, I liked it, but cultivated the habit of drinking a little too much, although I was able to see it myself.
When spring came, I left there and got a job driving a boat on the Miami Canal. My associates there were bullies as bad, or possibly worse, than the fishermen, but I had sworn off drinking. That meant I had to quit.
After a while, after seeing the inside life of a boatman, I quit and went to work in a water power saw mill in Lockington, Ohio. I also went into partnership with a man there in a butcher shop. Well, business was bad in the shop. Lots of meat spoiled; so when one beef was gone, I usually had to put some of my wages in to buy another beef. However, I managed to save a little money.
The next spring, I made up my mind to go west looking for the job of my ambition. My folks, of course, didn't like the idea and said the wild cowboys would kill me and if they didn't the Indians would. I said that those cowboys started sometime, and that I could, and as for the Indians, I was willing to take a chance. A boy friend of mine was going along, but when the time arrived, he got cold feet; but I said, "I'm going!" and so I started.
I had scarcely been out of the county I was raised in. I bought a ticket to southern Kansas hunting my way to some cattle range. I got a job in a livery barn, but I didn't like that job so I quit. I went to the Oklahoma boom when 30,000 men rushed in there for claims, but there were only 8,000 claims to be taken. Naturally, lots of them were left out. I, of course, was just out to see what it was all about, in other words, seeing the country.
The people were held back on the Kansas side until twelve o'clock noon when a cannon was fired and the rush started. We had to cross the Cherokkee strip forty miles wide. Some went on foot, some by train, some in wagons, some on horse back – any old way to get a claim. Many had been in and staked their claims so as to know just where to go at the right time. One man from Kansas gave $50.00 for the use of a race horse to go to his stake claim. When he got there, a man was plowing on his claim with a team of oxen – the secret being the people had been removed from the district, but some of the old timers had hid themselves in brush, etc. until twelve o'clock and then went out and went to work.
After the boom was over, I went back to Kansas and started beating my way over the country and wound up in Missouri. I worked on a farm there for six weeks.
Having satisfied myself that Montana was the range I had been looking for, I quit my job and started north beating my way through Kansas City, St. Paul, and then west. I had a little money but wanted to try anything for the experience. I had the time of my life on this trip with other hoboes.
I quit a job in Missouri at $15.00 per month and beat my way to Glendive, Montana. I lost just a week's work, and went to work for $40.00 per month. I got to Glendive on a Saturday evening in July, 1887 on a freight and went over to a small restaurant for supper. The boss offered me a job cooking. I said I could not cook, but he said he could show me all I needed to know in twenty minutes. But, I said I came to this country looking for a job as a cowboy not cooking, so he told me about a man thirty miles in the country up the Yellowstone river on the north side who was in town that day looking for a man.
Well, Sunday morning I went down to the cable ferry to cross the river, planning to walk the thirty miles. The ferryman asked twenty-five cents to take me across. I said that I could swim it cheaper and I had just little enough knowledge of the west to try it. The atmosphere being so different, it looked like it was just a short distance across; so I started looking for a place to start. Accidentally, I met an old gentleman and told him my plans. He was one of those real men typical of that country and he said, "Say young man, don't try it in the first place. It is further across this river than it looks to you. Besides, it is dangerous as it is full of whirlpools, undercurrents, and you will lose your life if you try it." I took the old fellow seriously and paid the ferryman the twenty-five cents, and believe me, when we got out into the current, I realized what the old man meant.
I started on my journey and hadn't gone but two miles when I came to a house. I went in to ask directions, and found to my surprise that the man who wanted to hire a hand had stayed there over night and had not left yet. He at once asked me if I was looking for work, and he offered me $40.00 per month. I took the job and got in his wagon and started for his ranch.
Driving up the Yellowstone Valley, to me, was the most beautiful sight I had ever seen, just prairie and hills with no one living there. This man, Henry Lewis, was a real old-time cowboy, but had settled on a small ranch and was married and had a nice wife and two children. He was running a bunch of cattle for an Iowa firm on shares on the range, but there was no roundup for about a month, so he asked me if I had any objections to haying. As cowboys at that time wore kid gloves, seven dollar pants, fourteen dollar boots, and refused to do anything but work with cattle or ride horseback, I told him I would be glad to hay until round-up time, which I did. He had a bunch of saddle horses which were at my command any time I wasn't busy, and we didn't work like they do on a farm so I had lots of spare time.
Through this man's general knowledge of cowboy work, and my ability to ask questions along with my long hours of practice in riding and roping, I learned a whole lot about the business, before the round-up started. I practiced roping on jack rabbits and coyotes. I had met several cowboys who used to come around occasionally to visit my boss. I had hunted some during the time game was plentiful. There were deer, antelope, and many small animals in abundance. We used wild meat almost entirely for fresh meat.
Well, finally round-up time came and I realized the dream of my life. For the benefit of anyone who read this, I will give a brief idea of what a round-up means. In the first place, this is what they call an open range. It belongs to the United States, no individuals, but they have gentlemen's agreements as to the range they claim. For instance, the country is drained by creeks which are all named. John Doe has a ranch on Porcupine Creek. He also claims Cedar and Cottonwood creeks; those creeks are his for his range. Another man has similar ranges. Well, the cattle run loose and get all over the whole range to some extent.
The general round-up, which is held every spring, means each ranch sends out a wagon, his bunch of punchers, along with their saddle horses. The wagon means a mess or grub wagon which carries the boys' beds, a cooking outfit, grub, etc. The cook usually drives the wagon from one camp to another. Those outfits, as they are called, all go together in the spring and start at one end of the range. One man is appointed round-up foreman and he is boss of all the work on this general round-up. He directs the riders from one camp to another, that is, he sends them to certain parts to bring in all the cattle they find. They all come in to camp.
The horse wranglers look after and move the saddle horses. When the cattle are assembled, the cowboys usually eat dinner, change horses, and cut out the cattle that belong to the man on the particular range they are on, and leave them on what they call his home range. Then they night-herd the general herd. Next day they move and perform as before until the whole range is worked.
Then each ranch has its beef round-up in the fall and ship their beef. If a neighbor's cattle is found on the beef round-up, they cut out his beef and ship it. The brand inspector at the terminal sends the money to the proper person. Brands are recorded the same as deeds to farms.
Well, this man Lewis who I worked for didn't have a big enough outfit to send out a wagon, so he sent me out representing his brand. That meant that I was to look after his interests. Well, he gave me eight head of saddle horses and a bed, which we tied to one of the horses. He told me where to find the outfit, which was twenty miles distant, and gave me the general direction, thus starting me out on one of the happiest moments of my life. I would not have changed places with the president; in fact, I don't know if his overcoat would have made me a vest.
I found the outfit at dusk in the evening and drove my string of horses near the wagon. A man came and helped me put them in a rope corral by the wagon for this purpose.
A rope corral is two ropes, one stretched in such a way as to be wider in the middle than the outer end where the horses are put in. One end is stretched from the front wheel, and one from the hind wheel about three feet from the ground. The horses are trained so as not to break out of this corral which is used for the boys to catch their mounts. I asked this man who the boss was. He answered, "You are talking to him now." I said, "Mr. Lewis, my boss, sent me here to help, but I never saw a round-up and know nothing about this kind of work; but if you will tell me what to do and how to do it, I will do the best I can, as I want to learn." He said, "Say kid, I like to hear a kid talk like that; you'll learn."
I unsaddled my horse, took the bed off the bed horse, and turned them loose. The boys were eating supper and the boss told me I had better eat. I washed my face and hands and asked the cook where he kept his towels. He told me to help myself to the slickers, and the boss showed me the towels.
The boys laughed a little as I proceeded to eat. The cook had sugar in one baking powder can and salt in another. I got salt in my coffee which didn't taste good, but I drank it. The boys don't know the mistake yet.
The boys, of course, were strange to me and, of course, knew I was a tenderfoot, so they were rather cool to me. I spread my bed in the tent along with the rest and went to bed, my first time to sleep on the prairie in a tent. I dreamed of things to come.
The next morning I got up when the cook pounded on a Dutch oven lid, which would wake anything alive. We ate our breakfast, caught our mounts for the forenoon and started.
Was I happy! Imagine me finally a real cowboy; among nobody but cowboys. Of course, the boys always caught their toughest horses the first morning out. I will never forget the excitement that morning. I wondered if I had the stuff in me to someday do likewise. After the scene that would make most rodeos look tame, we got off.
I said to one of the boys that I thought he had a real rough ride, "I don't see how you can stay in the saddle when they buck that way." He said, "It's easy. Just get up there and keep your seat." I said, "Keeping your seat is the puzzle to me."
My string of horses were all gentle. Things went smoothly with me until the horse wrangler lost my string of horses one night. It looked to me as if I would have to go on foot, but the boss said, "I'll stake you kid, until your get your horses." He caught me a nice gentle horse in the morning and at noon he said, "Say kid, do you think you can ride a horse that bucks a little?" I said, "Jim, I never rode a horse that bucked much, but I am afoot and will try anything you say."
He caught a little white horse and told me to take him. I was saddling him when a boy on one side of me said to another, "Say Jim, isn't that the horse that killed a nigger coming up the trail?" Jim said, "Yes, he seems gentle, but when you get on him, he unwinds and it takes some man to stay there." Well, I caught the joke, and said, "Say Jim, he will have a chance to kill a kid in a minute."
One good Mexican, Pedro Gonzolis, seemed to think I was scared and came up and jumped into the saddle; the horse looked gentle and he was gentle. The boys thought they were going to have a joke on me.
Well, we soon found my old string of horses, and things went along fine. So far I hadn't been very useful, but I was learning. Of course, being young and ambitious, I wanted to be useful as soon as possible.
The outfit I was with had bought the remnants of some Texas cows from an outfit that a hard winter had almost eliminated, and branded them as they were found. I watched the boys do their stuff until I thought I was ready to graduate. The same Mexican that saved me from the joke roped a cow and threw her. I, of course, a cowboy, jumped off my horse, held her down until branded, took the rope off her, and got up and stood there. Well, when she got to her feet and saw me standing there, she dropped her head and started for me. I ran for my horse, but the cow was so close I didn't have time to mount, so we played merry-go-round for some time. She wasn't fooling, she meant business. I sometimes thought I could feel the warm breath from her nostrils on the parts farther behind. For the benefit of those who read this, I will say that one can dodge a bull on the prairie for the reason that when a bull charges, he closes his eyes, but not a cow. Not her!
Well, this Mexican friend, not being able to see it as a joke any longer, roped the cow and again threw her. I said, "Say, will someone show me how this is supposed to be done." Well, the secret was to have your horse handy and get on him.
We accumulated a herd and were standing night guard. We had two men for two hours and two the next two hours etc., until daylight. I was on the first guard.
One day while on a circle which means looking for cattle, I came to a spring and stopped for a drink. There I saw my first human skull laying on the ground seemingly looking at me. Well, my hair seemed like fish poles sticking up. Needless to say, I felt creepy, in fact, cold chills ran up my back.
A few days later, the boss sent me to a ranch about fifteen miles away to get some saddle horses and told me to stay all night. I got there in the evening.
A log shack was the first thing that caught my attention. There was a large elk horn nailed on the ridge log over the door. On each point of the horn was a human skull. Again I felt creepy but not quite so bad as the last time, I guess I was getting a little bit used to it. I put my horse away for the night and went into the house and had to walk under those skulls as I went in. There sat an old man, his hair as white as this paper. He sat looking into an old fashioned fireplace, the light of which made him look like a ghost. He did not notice me coming in. I spoke to him but he never answered. I wondered if I would not be as well off back in Ohio, but I was there for the night. We both sat there. Finally he swore out some awful oaths, cursing the women in horrible shape, and then sat a while over the same spell. I, thinking things might as well come to a head, asked, "What is wrong with you anyway?" He did not answer. Finally he came out of it, turned around, spoke, and we got acquainted. I spent the evening all right.
Afterwards, I got well acquainted with him. He seemed like a good fellow and owned quite an outfit, but he was always bursting out on the women when not otherwise absorbed. I never learned about his trouble.
I took the horses back, and went on with the round-up. The next day I saw my first and only herd of buffalo. There were about eight or nine just going into the bad lands at the head of Cottonwood creek. On this same round-up, a mountain sheep which, by the way, is the wildest animal in the hills, got into my day-herd and I didn't dare shoot him for fear of causing a stampede. I tried to rope him but he beat me to the hills and no animal has any chance competing in a race with a mountain goat in the hills.
We finished the round-up and forded the Yellowstone river with the beef herd to Fallon, Montana, which was said to be the largest cattle shipping point in the United States at that time. While fording the river, which is very treacherous, one of the boys said to another, "Jim, don't get too far down there for there is a whirlpool. "Jim answered, "I guess I know this river."
Well, about that time all you could see were hands and feet in the air. Jim and the horse both went out of sight. The horse came up about fifty yards below but Jim did not show up. Two of the boys bet a quart of whiskey that Jim was drowned. Well, Jim came crawling out on the bank. Then we went to Fallon, about two miles, and drank the whiskey.
After the usual thrills, we shipped the cattle. The boys had a spree.
We crossed back across the river, and I went to the ranch where I worked with quite a little experience to my credit. Late that fall a horse outfit shipped and turned loose two train loads of the wildest horses on any range. Those horses were very hard to work with, and other helpless horses would mix with them making it almost impossible to keep the horses in their own herds.