Samuel Richardson was born in 1602 in Westmill, Hertfordshire, England. He died on March 23, 1658, in Woburn, Middlesex, Massachusetts.
He is the son of Thomas Richardson and Catherine Duxford. We know this because Samuel was the executor of his father's estate on July 31, 1634, in Hutchins, England. This is the Thomas Richardson that we also call Thomas Richardson of Standon.
Samuel Richardson was christened at St. Mary the Virgin in Westmill on December 22, 1604.
Samuel Richardson married Joanna Thake. They were married on October 18, 163 in Great Hormead, Hertfordshire, England.

Together they had at least 9 children.
Mary (1637-1677)
John (1639-1696)
Hannah (1642-1642)
Joseph (1643-1718)
Samuel (1646-1712)
Stephen (1649-1717)
Thomas (1651-1657)
Elizabeth (1653-1677) ?????
In 1636 they arrived in Charlestown, Massachusetts. He was one of the founders and largest landowners of Woburn, Mass.
His father was Thomas Richardson of Standon and his mother was Katherine Duxford.
Samuel Richardson (1602 – 1658)
11th great-grandfather
Stephen Richardson (1696 – 1723)
son of Stephen Richardson
John David Richardson (1720 – 1777)
son of Stephen Richardson
David Richardson (1760 – 1842)
son of John David Richardson
Jonathan David Richardson (1795 – 1870)
son of David Richardson
Thomas Richardson (1826 – 1898)
son of Jonathan David Richardson
Benjamin Wayne Richardson (1951 – )
son of Reuben Namon Richardson
Samuel Richardson is one of three brothers who came to America. 
Ezekiel
came to America first in 1630, and Samuel and Thomas followed a few years later (1636).
A list of fifty-eight men, inhabitants of Charlestown, dated Jan. 9, 1633-4, is found on the records of that town. Among them is the name of Ezekiel Richardson, but not Samuel or of Thomas, his brothers.
The first notice we find of Samuel is dated July 1, 1636, when he and his brother Thomas Richardson, with others, were on a committee to lay out lots of land for hay. In 1637, the names of Samuel and Thomas Richardson first appear in a list of inhabitants of Charlestown.
The same year the town of Charlestown granted to each of them a "house-plot," clearly indicating that they had become residents.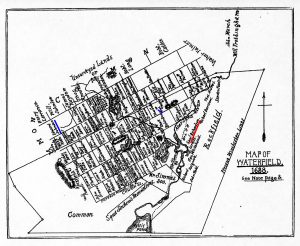 Samuel and Thomas were admitted as members of the local church on February 18, 1637-8, making them freeman of the colony on May 2, 1638.
Samuel was chosen surveyor of the highways on March 17, 1636-7.
The three brothers had lots assigned them on April 20, 1638, on "Misticke side above the Ponds," that is, in Malden, and their names, among others, appear as persons having the privilege of pasturing cows upon the Common, Dec. 30, 1638.
On the 5th of Nov., 1640. the three brothers and four others, Edward Convers, Edward Johnson, John Mousall, and Thomas Graves, were chosen by the church of Charlestown as commissioners or agents for the settlement of a church and town, within what were then the limits of Charlestown, but soon after erected into a separate town, and called Woburn. That whole territory was then a wide, uncultivated waste.
In the February 1641, the commissioners built a bridge over the Aberjona River, north of Mystic Pond. This bridge was known as Converse Bridge, from Edward Converse, the proprietor of the adjacent mill. He lived in the immediate vicinity, in the first house built in Woburn.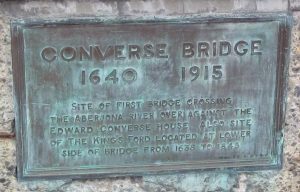 His descendants lived there, or in that vicinity, and the entire locality is now in the heart of the town of
Winchester
.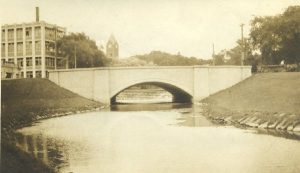 When the church was constituted in Woburn, Aug. 14, 1642, O.S., Samuel Richardson and his two brothers, with John Mousall, Edward Johnson, Edward Converse, and William Leonard, solemnly stood forth, as the nucleus around which the church was to be gathered.
The first organizational Town Meeting was held on April 13, 1644, and the first town officers were chosen. Town Selectmen were Edward Johnson, Edward Converse, John Mousall, William Learned, Ezekiel Richardson, Samuel Richardson, and James Thompson. William Learned was also selected as Constable.
Michael Bacon, Ralph Hill, Thomas Richardson were chosen for Surveyors of Highways. As you may recall, this was a position that Samuel previously held.
The three brothers lived near to each other, on the same street, which has ever since been known as "Richardson's Row." In 1647 the town officially named it Richardson Street which still exists to this day.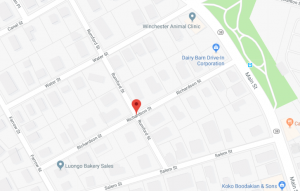 Samuel Richardson was selectman of Woburn in from 1644-1646 and from 1649-1651.
In 1645, he was listed as having paid the highest tax of any man in Woburn; Capt. Edward Johnson the next.
Samuel Richardson was married to Joanna Thake who united with the church in Charlestown on the 9th of July, (or Sept 9th), 1639.
Samuel Richardson died on March 23, 1658, without leaving a will.  His widow and eldest living son John were appointed administrators of his estate. John would have been about 19 at the time his father died.