The first Wegley to come to the US, at least in my line is Johann Paul Wegerlin.  He is my 6th great grandfather and was born on May 10, 1699, in Lampertheim, Bergstrasse, Hessen, Germany.
When I first started this website, I was sure I knew everything I could about him. but in time I learned that just because someone else says something is true, doesn't make it so.
Is Johann Hana Paul Michael Wägeli the same as Johann Paul Wegerlin or Paulus?
That's really what I needed to try and figure out. Only it's not exactly that easy. The Germany birth, death and marriage records are hosted by Family Search and not a single image is available. The translated data is, but as we all know, that is very possibly wrong. My question is simple … what is our real family name … not our anglicized name, but our original name? Simple enough question, right? Well not so easy to answer.
In the same batch of Germany records, here are the 15 common variations of our family name.
Wegerlin
Wegelin
Wägerlin
Wegerlein
Wägele
Wägeli
Waegerlen
Waegerlin
Weckherlin
Weekerlin
Wegerle
Weikhelin
Wiegerlin
Wigerli
Wigerlin
Waeckherlin
Wuekherlin
I actually went as far as to hire someone from Germany who does translations to ask him who you even pronounce the name Wägeli. Was it why-gull or wu-ghel-ly or something different altogether?
He ended up telling me that the "ä" has a sound that is unique, there is no way to write it correctly for an English speaker but if you had to sound it out like why-gull, he said the closest would be the one that you said "wu-ghe-ly" but it's only close and not the right way.
Here is a recording of his saying it so you can hear it said in his nature German tongue. 🙂
What I can say for sure is that Johann Paul came to America, specifically the Port of Philadelphia when he was 33 years of age, on September 18, 1732. Once in America, he would become known as Paul Wegerline. This "Americanization" of names wasn't uncommon. More specifically he  arrived in the Port of Philadelphia on board of the Johnson Galley of London. We have the passenger list that tells us on that day he had with him his wife, Ottilia and four of their children … three girls, one boy.
And we aren't even sure if her name was Ottilia or Obtilia or Otella or Otelia. I will say this though, Lancaster County, PA records her death in the year 1763. They have a copy of her will on file in book J, volume 1, page 344, again listing the spelling of her name as Wegerlin, Obtilia.

Katharine Wegerlin became Catherine Wegerline


1727 – 1800

Ottilia Wegerline

1729 –

Anna Clara Wegerline

1731 – 1784

Jacob Wegerline

Born sometime between 1716 and 1732

When they came to America the original oath translations listed them as
Paul Wegerllue, (husband)
Jacob Wegerline, (son)
Otella Wegerline, (wife)
Oteliea Wegerline.. (daughter)
Katharine Wegerline. (daughter)
Anna Clara Wegerline. (daughter)
See how easy it is to lose track of someone when names are often times so misspelled? Also, I should note there is a separate entry for a Paulus Wegerlin.
We have a birth record for Anna Clara and on that record, it tells us that her mother's name is Ottilia and her father's name is Johann Paul Wegerlin. This record tell us that Anna Clara was baptized on April 16, 1731, in the city of Darmstadt in Germany, which is just south of Frankfurt.
The exact record reads "Evangelisch,Lampertheim,Starkenburg,Hesse-Darmstadt" but this is a translation mistake. "Evangelisch" tells us that she was baptized in the Evangelical Church in Germany. The identifying location is "Lampertheim, Starkenburg, Hesse-Darmstadt" which is actually the city of Darmstadt, in the province of  Starkenburg in the German state of Hesse. I asked a few different people from Germany and got varied results. While most agree it was in the city of Darmstadt a few said it meant she was baptized in the town of Lampertheim, a small town near Darmstadt in Germany." Google maps tells us that Lampertheim is about 25 miles south of Darmstadt.
So now we've matched the mother, father and at least one child in two different records – the immigration passenger list and the child's baptismal records. So this tells us that his full name is "Johann Paul Wegerlin" and when he came to America it became Paul Wegerline.
Next, we have the baptismal records of their daughter Ottilia. She has her mother as Ottilia but the father is Johann Paul Wegerle. This is a perfect example of why I wished we could see the actual records because obviously, the person who transcribed the data made a mistake. We know from other sources though that Wegerle is a common misspelling of Wegerlin / Wegerline.
So moving forward we now have three records that group this family together. It may not seem like a lot but keep in mind these are records from hundreds of years ago and there were a lot of people with similar names.
There was a Johann Nicklaus Wegerlin or married a Clara and had a daughter named Ottila who also happened to be baptized in the exact same place as our own Ottila Wegerlin. Of course, we know this wasn't our Ottila because this one was was baptized in January of 1735 and by then our Ottila was already in America. There was also a Paulus Wegerlein who married an Ottila Beyer and came to America but they are not the same as our Paul and Ottila.
I AM STILL WORKING ON VERIFYING SOME OF THIS INFORMATION. PLEASE DO NOT CONSIDER IT 100% ACCURATE AT THIS TIME.
It is possible his full name is Johann Hana Paul Michael Wägeli or Johann Hana Paulus Michael Wägeli or Johann Hanß Paul Michael Wägeli.
It is possible that his father is Zacharias Wägeli and his grandfather is possibly Hanß Wegerlin …. although at this time I can not say for sure. It could be that Zacharias is his grandfather making his father possibly Han Philipp Wegerle, which to me seems far more likely if you do the math.
So is Johan Michel Weigel the same as Paulus Wegerline?
I'm sorry to say but Johan Paul and Johan Michel Weigel are not the same person. And I can prove it with old obscure German birth records.
Johan Michel Weigel was married to Anna Elisabetha and yes they had a child named Anna Catharina but it's not the same.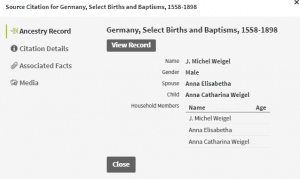 Paul or Paulus Wegerlin was married to Otillia. We know this because they came to America together and we have a zillion records to prove that they came over together with two of their daughters that we also have old German birth records for.
Another bit of proof is that during the 1736 PA Early Census Index, Johan Michael Weygell lived in Philadelphia County, and we already knew Paulus was leaving in nearby Lancaster County during that time period.